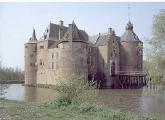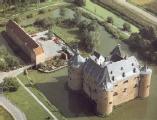 Kasteel Ammersoyen is an impressive 14th century moated castle with Great Hall, privy chambers, and tower rooms, reached by centuries-old staircases within its walls.

In 1350 Dirk van Herlaer had the castle built along a branch of the river Maas. Contrary to other medieval castles, Ammersoyen was built according to a fixed plan. Four wings were erected around an inner court with heavy towers at the corners. This complex had a gatehouse and, surrounded by a moat, it was considered to be an ideal defensive structure.

In 1386 the van Herlaer family lost Ammersoyen to the Duke of Gelderland, who in turn gave the castle to his illegitimate son, who sold it to Johan van Broekhugen, Lord of Waardenburg in 1424. For the next 400 years, Ammersoyen only passed to other hands by inheritance. The castle was besieged several times: in 1513 by the Burgundiuns and in 1574 the Spanish followed. The most damage was done, however, by a fire in 1590 in which Joris van Arkel, Lord of Ammersoyen, died from his injuries.

Because of a shortage of money, the van Arkel family was not able to restore the heavily damaged castle until the 17th century. In 1672 the French came to Holland and burnt down many castles. Thomas van Arkel paid them 7000 guilders to save Ammersoyen. The castle survived but van Arkel remained heavily in debt and unable to finish his redecoration plans. At his death in 1693 the last member of the family van Arkel was dead and the castle was inherited by another family.

In 1873 the castle was sold to the Roman Catholic Church, who in 1876 converted the castle into a convent. The second World War brought an end to the convent period and part of the village population found shelter in the castle during the bombardments of the area. The castle was then used as a village hall until it was bought by the Gelderland Castle Trust in 1957, who completely restored Ammersoyen to its medieval splendour.





[Kasteel Doorwerth] [Slot Loevestein] [Paleis Het Loo] [Muiderslot]
[Image Gallery 1] [Guest Book] [Links]
---
This website is a member of Castles on the Web. Click here for more great Castle sites!