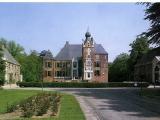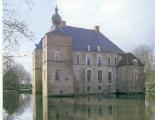 Located near the town of Vaassen, Kasteel Cannenburch is a historic renaissance house built in 1543 by the Fieldmarshall of Gelderland, Marten van Rossem.

He built the house on the remains of a medieval castle and included parts of the still existing vaulted basements in the new structure. After his death, the castle was finished by his nephew and hier Hendrik van Isendoorn, marshall of Limburg, and his wife Sophia.

The Isendoorn family lived at Cannenburch for more than 300 years. Under the succeeding generations the castle was enlarged by building on to the medieval remains which still stood west of the building. Some hundred years later, the house was adapted to the more elegant taste of the eighteenth century. From 1742 to 1752 the main entrance was removed from the front to the present place by building a new bridge and entrance in the Louis XIV style.

With the death of Lady Charlotta, widow of the last Baron Isendoorn, in 1881, the family became extinct, and the castle and estate were sold by public auction. The castle changed hands several times, until after World War II, when it was entrusted to the Foundation "Friends of the Castles in Gelderland". Over a five year period, the castle was restored to its original splendour. With the acquisition of several works of art and furnishings from the original Cannenburch inventory, the castle regained much of its historical character.


---
This website is a member of Castles on the Web. Click here for more great Castle sites!