Castles on the Web is pleased to offer you thousands of Castle photos. These castles have been submitted by other castle enthusiasts. Feel free to take your time to view these excelent pictures of castles. Thanks to all our friends who have submitted these fine photos of castles.
Baroque Northern Euro Castle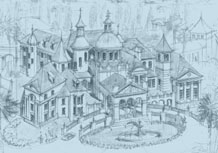 An alternative elevation study for Sintra Castle, the turrets, towers, and steep pitch roofs would place this in France or Belgium. On three levels the cour d'honneur replaced by a rotonda entry hall. Pilasters and temple front echo ancient heritage.
This photo has been seen 3844 times